Pneumatic Hog Ring Gun Manufacturer & Supplier
WHAT IS HOG RING GUN?
Pneumatic Hog Ring Gun is an Industrial-Applications Nailer, powerful nailing can save time and be high efficiency. Powerful, quiet operation. Ergonomic handle. Sleek design. Application: Upholstered furniture, Chairs and seats, Loudspeakers, Automotive industry.
HOG RING GUN with "C" hog ring fasteners provide faster gabion assembly and installation. They provide a cleaner look than spirals and will save you over 30% in labor compared to hand lacing of gabion joints.
HOG RING GUN is a good quality c ring gun, who has ergonomic design and symmetrical balance. Its pull structure effectively reduce wrist and finger fatigue caused by prolonged use. Its Muzzle is made of high strength alloy steel, which is wear-resistant and has long service life, and clamping buckles perfect.

For coastal and river applications one ring should be fixed in every mesh opening.
Hog Ring Gun APPLICATIONS:
Gabion
Fence backstop
Bag sealing
Label attachment
Spring bed / mattress
Cage grid secure
Auto seat
Wire mesh closure
FEATURES:
1. Ergonomic design, symmetrical balance-pull structure effectively reduce wrist and finger fatigue caused by prolonged use.
2. Muzzle made of high strength alloy steel, wear-resistant and long service life, and clamping buckles perfect.
3. To be used in wire cage, car seat. spring mattress, bedding, wire connections and so on.
4. Easy Loading Process. Ultra Light To Reduce Operator Fatigue.
5. Rubber comfort grip.
Video:
RELATED PRODUCTS:
HOG RINGS
- Adaptable to hog ring pliers or pneumatic hog ring guns.
- Heavy duty steel wire is resistant to tear free.
- Galvanized or copper plated for rust resistance.
- Complete styles, gauges and sizes are available.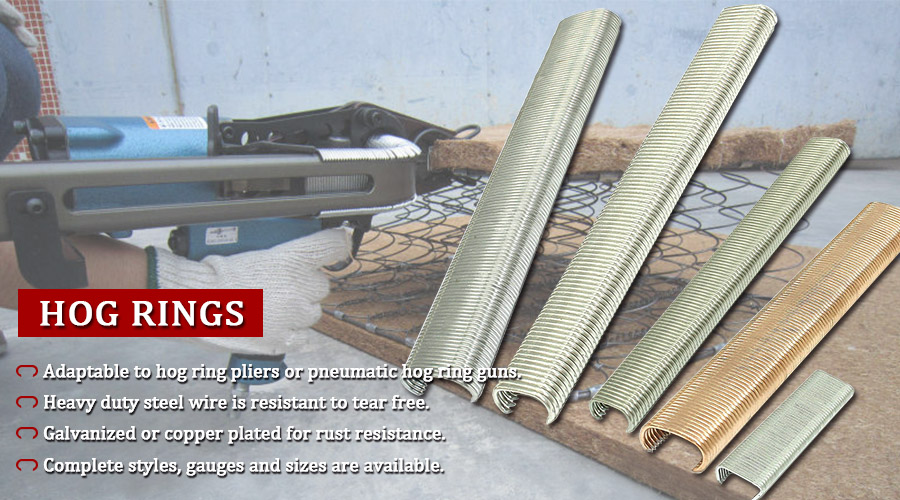 Hog Ring Sizes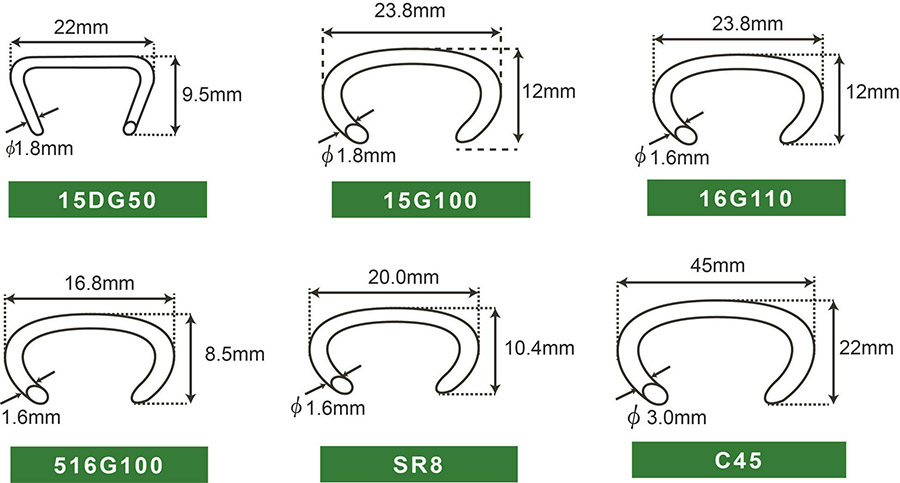 ABOUT KYA :
KYA FASTENERS makes work easier - that's our goal. Since the beginning in 2010, with 7 years explored become a professional hardware manufacturer and supplier. We have built inroads in the factory of coil nails and industrial staples with state-of-art technology.Our Products LinesHardware Tools: Nailers, staplers,Brad Nailers,Finishing Nailers,Hog Ring Gun,Clinch Clip Tools etc.Industrial Nails: Coil nails, roofing nails, plastic strip nails, plastic sheet coil nails, paper tape nails, DA nails, Brad Nails,Finishing Nails,L-Cleat flooring nails,Duplex head nails, Square boat nails, Concrete nails, Drywall Screw.Indusrial Staples: Fine Wire Staples, Medium Wire Staples,Heavy Duty Staples,Plastic Staples,Fence Staples, N Series, Q Series, L Series, 50 Series,70 Series, 80 Series, 90 Series, 10 Series etc.Packing Material: Carton Close Staples,Roll Carton Staples,Composite Cord Strap, Metal Buckle,PET strap, Woven Strap.Office Products: Office staples, Double Loop Wires,Binding Wire,Booking Wire,Stitching Wire etc.