What gauge is rebar tie wire?
Galvanized 21 gauge/triple tie wire in a 50 spool carton -shipping weight: 46 lbs.
19-Gauge wire; 1-Twin wrap/tie; 215-ft/spool; 170-260 ties/spool (based on rebar size); 30 spools/box.
Does rebar tie wire rust?
Electro Galvanized fasteners have a very thin layer of Zinc that offers some corrosion protection.
Electro galvanized finish helps resist corrosion and rust
Rebar Tie Wire – High Tensile Strength and Flexibility Binding Wire. Rebar tie wire, also called rebar tying wire, it has many advantages, such as high tensile strength, weather-resistance, corrosion-resistance, anti-rust and long service life.
BLACK ANNEALED
This low carbon steel, dead soft annealed wire is coated with a black oxide finish to provide a thin, mildly corrosion-resistant finish. This commonly used wire meets most construction, precast, and pre-stressed concrete industry applications.
ELECTRO-GALVANIZED
This low carbon steel, dead soft annealed wire is finished with a 5-micron zinc coating to provide greater corrosion resistance. It is ideal for precast or pre-stressed concrete used in marine or other harsh environment applications, or where length of service is important.
PLASTIC COATED
This low carbon steel, dead soft annealed wire is powder-coated with .05mm thickness of yellow polymer (polyester). It is used when tying epoxy coated rebar or other DOT mandated uses, or anywhere a cushioned wire with added protection against corrosion or abrasives is needed.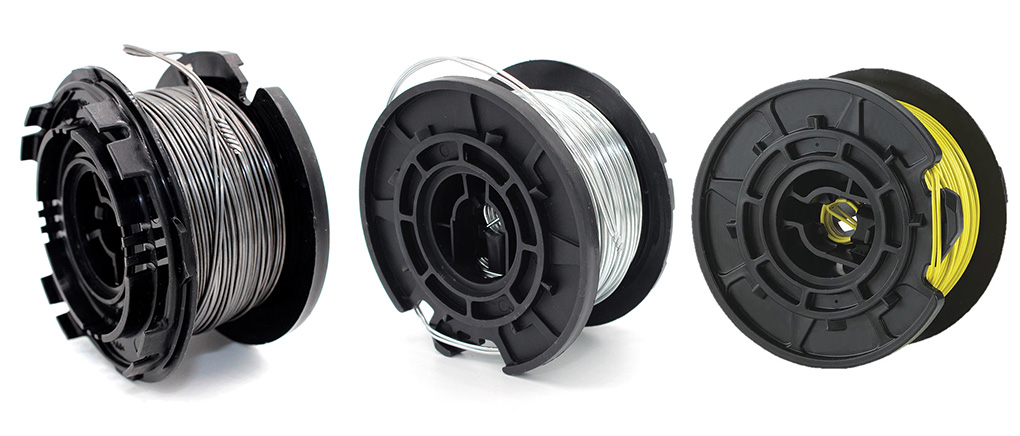 What is tie wire?
Tie wire is a very pliable and durable steel wire, that is used by ironworkers to tie reinforcing steel together.
Rebar tie wire available for Rebar Tying Tools.Rebar tie wire is melted, annealed and drawn.Rebar tie wire is an uncoated steel tie wire.
Automatic Rebar Tie Wire For Automatic Rebar Tying Machine
● 【Tie Wire】- Diameter: 0.8mm
● 【Large Length】- Length of each coil is up to 100m
● 【High Quality】- Made of low carbon steel and through heat treatment, durable and stable
● 【Smooth Surface】- Its surface is smooth, highly polished and has no burr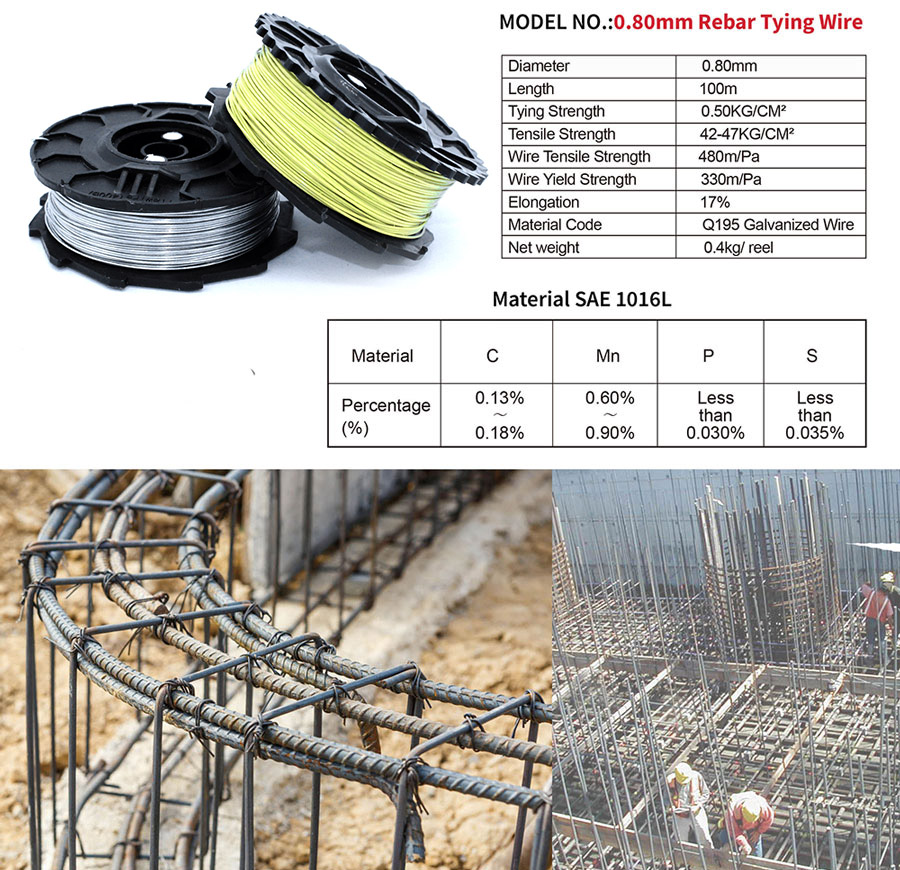 Applications Include:
Precast concrete products, Building foundation, Road and bridge construction, Floors and walls, Radiant heating tubes, Retaining walls, Swimming pool walls, Electrical conduits.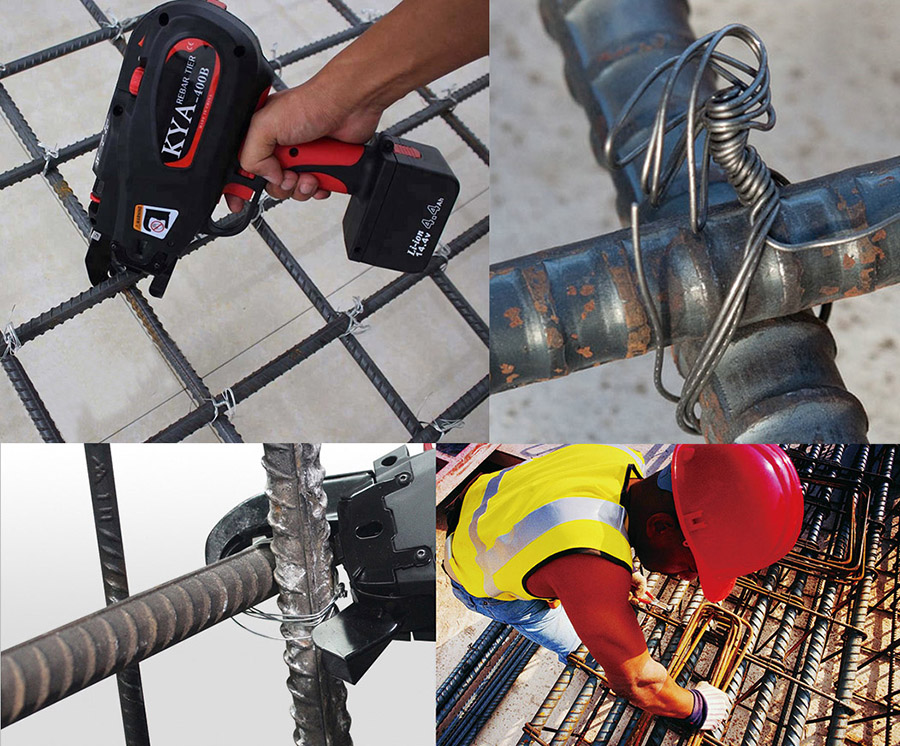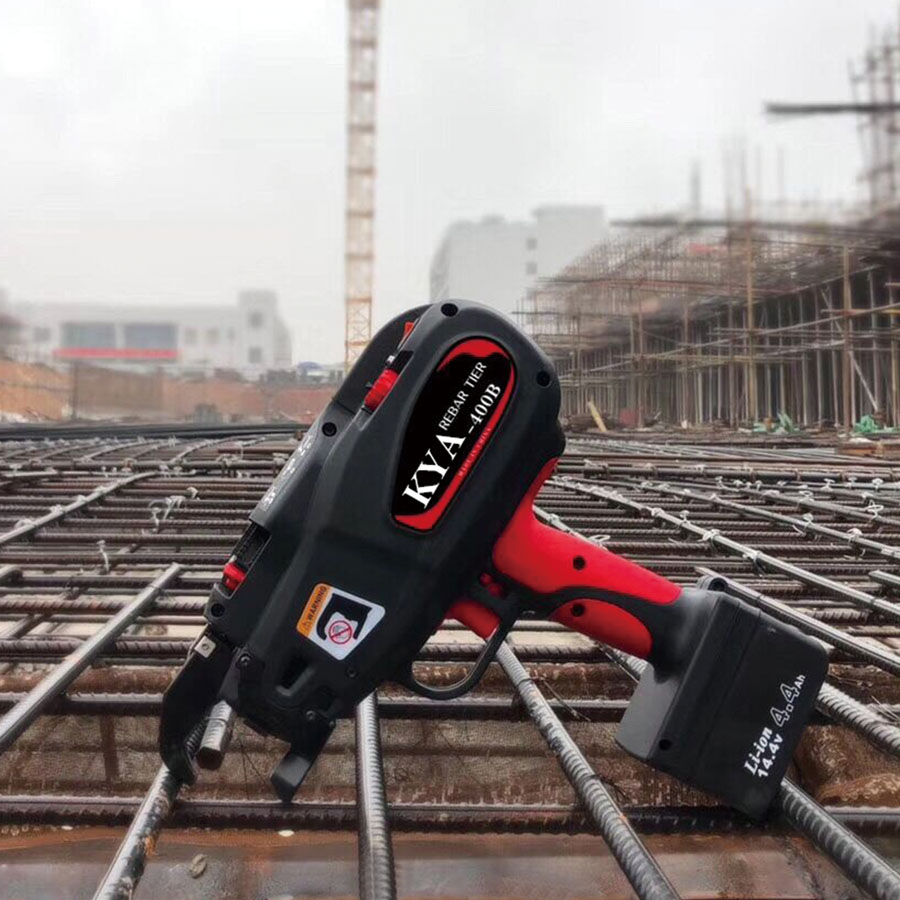 VIDEO:
Rebar Tie Wire PDF:

Rebar Tie Wire.pdf