We carry a full range of all current and popular fine-wire staples intended for office, bindery, and light commercial uses:
● KYA office staples (flat wire) for electric office staplers.
● High-carbon staples for electric flat and saddle bindery staplers.
● Heavy-duty staples for manual bindery staplers.
● Stainless steel and colored staples for specialty applications.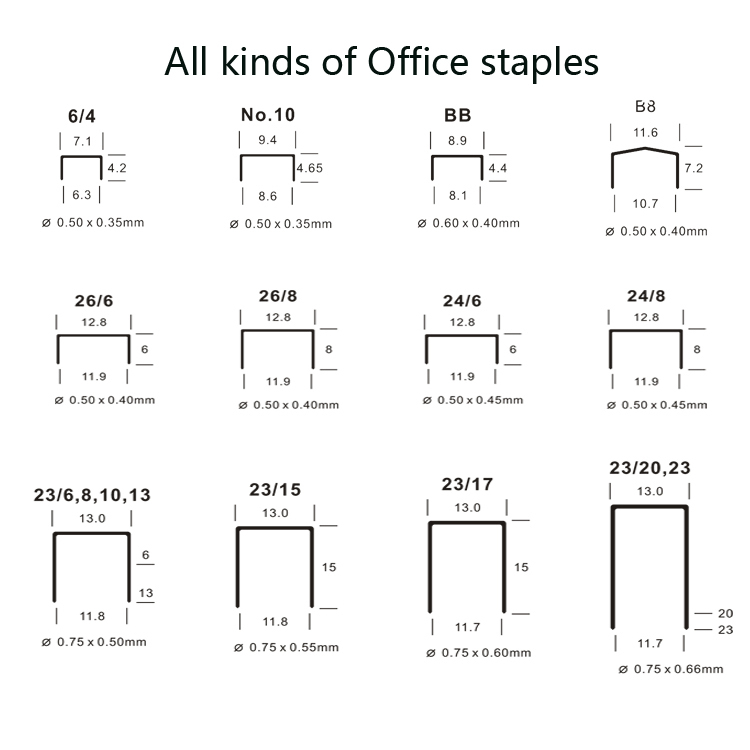 Binding Supplies:
Wire-O binding: Wire-O binding uses a double wire to spiral bind a book, forming a continuous hinge of double loops of wire to hold the book covers and leaves together. This is a versatile solution for many book binding needs as it is durable, lays flat, very cost-effective, can be opened past the lay flat limit and fold over onto itself, and gives a more finished look because the connectors and hinges' ends are hidden on the inside back cover. Facing pages will also align perfectly.
Plastic coil spiral binding: Plastic coil spiral binding is run through a series of closely spaced holes near the gutter margin of loose pre-collated sheets. There are multiple color, size and pitch options for plastic coil and the resulting book product is crushproof, durable, has a clean modern look, and is very economical.
Fully concealed wire-bound hardback books: In making a wire-bound book, with the wire-o fully concealed in the hard case binding, a much more durable book is created than a standard exposed Wire-O. It will maintain the lay-flat ability that is so appealing in the Wire-O books while sporting a sturdy hard cover case.
Plastic comb binding: Plastic comb binding is a plastic binding filament with regularly spaced teeth that open so they can be inserted into the punched holes and closed to secure the binding. It is economical for short runs, can have an imprinting on the spine, comes in multiple colors, facing pages align, and can be opened to have additional pages added.