WHAT IS BRAD NAILER?
The brad nailer was introduced after the finish nailer primarily to provide a gun that shoots thinner nails.
You will find that brad nailers are designed for 18 gauge nails.
You'll want to use a brad nailer on the smaller applications where you are worried about splitting the wood or the size of the nail head.
As any nail head will leave a hole in the wood, you'll obviously want a nail that won't leave too big of a hole – and that's what the brad nailer is for. An 18 gauge brad nailer will have a reduced hole size which leaves less of a mark in your woodwork. Depending on the material you're using, you may not even need to fill it in before painting.
WHAT IS 18 GAUGE BRAD NAILER USED FOR?
Brad nailers are used for on wood where splitting might be an issue or where you would want a thinner nail for less of a hole. They have many uses but they are most commonly used for:
Trim work
Paneling
Fastening decorative molding
Casing
Baseboard
BENEFITS OF A BRAD NAILER
Ideal for thin or more delicate wood that you're worried about splitting
Leaves small nail head holes
Brads can be used to temporarily hold things in place when using glue. Simply remove them when the glue has dried and the nail holes are barely visible.
The nails are perfect for small projects, like making jewelry boxes, picture frames, or attaching decorating trims and edges to cabinetry.
BRAD NAILS SIZE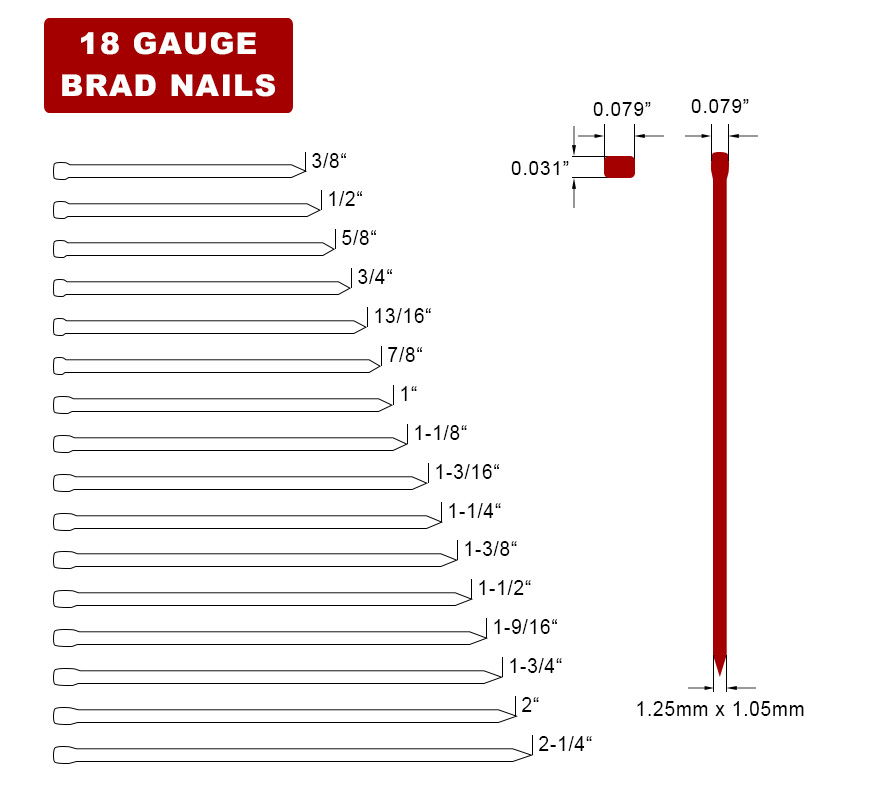 Item
Our Specification.
Length
Pcs/Stick
Package
mm
inch
Pcs/Box
Bxs/Ctn
Ctns/Pallet
Weight Ctn
(G.W.)
Weight Pallet
(G.W.)

F/10

F Brads Nails

10mm

3/8"

100Pcs

5000Pcs

30Bxs

60

13.9Kgs

834Kgs

F/13

GAUGE: 18GA

13mm

1/2"

100Pcs

5000Pcs

30Bxs

60

18.4Kgs

1104Kgs

F/15

HEAD WIDTH: 2.00mm

15mm

5/8"

100Pcs

5000Pcs

30Bxs

50

21.1Kgs

1055Kgs

F/16

WIDTH: 1.25mm

16mm

5/8"

100Pcs

5000Pcs

30Bxs

50

22.6Kgs

1130Kgs

F/19

THICKNESS: 1.00mm

19mm

3/4"

100Pcs

5000Pcs

20Bxs

50

17.7Kgs

885Kgs

F/20




20mm

13/16"

100Pcs

5000Pcs

20Bxs

50

18.3Kgs

915Kgs

F/22




22mm

7/8"

100Pcs

5000Pcs

20Bxs

50

19.7Kgs

985Kgs

F/25




25mm

1"

100Pcs

5000Pcs

20Bxs

50

21.9Kgs

1095Kgs

F/28




28mm

1-1/8"

100Pcs

5000Pcs

20Bxs

50

25.1Kgs

1255Kgs

F/30




30mm

1-3/16"

100Pcs

5000Pcs

10Bxs

60

13.7Kgs

822Kgs

F/32




32mm

1-1/4"

100Pcs

5000Pcs

10Bxs

60

14.2Kgs

852Kgs

F/35




35mm

1-3/8"

100Pcs

5000Pcs

10Bxs

60

15.7Kgs

942Kgs

F/38




38mm

1-1/2"

100Pcs

5000Pcs

10Bxs

60

17Kgs

1020Kgs

F/40




40mm

1-9/16"

100Pcs

5000Pcs

10Bxs

60

17.7Kgs

1062Kgs

F/44




44mm

1-3/4"

100Pcs

5000Pcs

10Bxs

50

19.3Kgs

965Kgs

F/45




45mm

1-3/4"

100Pcs

5000Pcs

10Bxs

50

19.8Kgs

990Kgs

F/50




50mm

2"

100Pcs

5000Pcs

10Bxs

50

21.7Kgs

1085Kgs

F/57




57mm

2-1/4"

100Pcs

5000Pcs

10Bxs

50

26.7Kgs

1335Kgs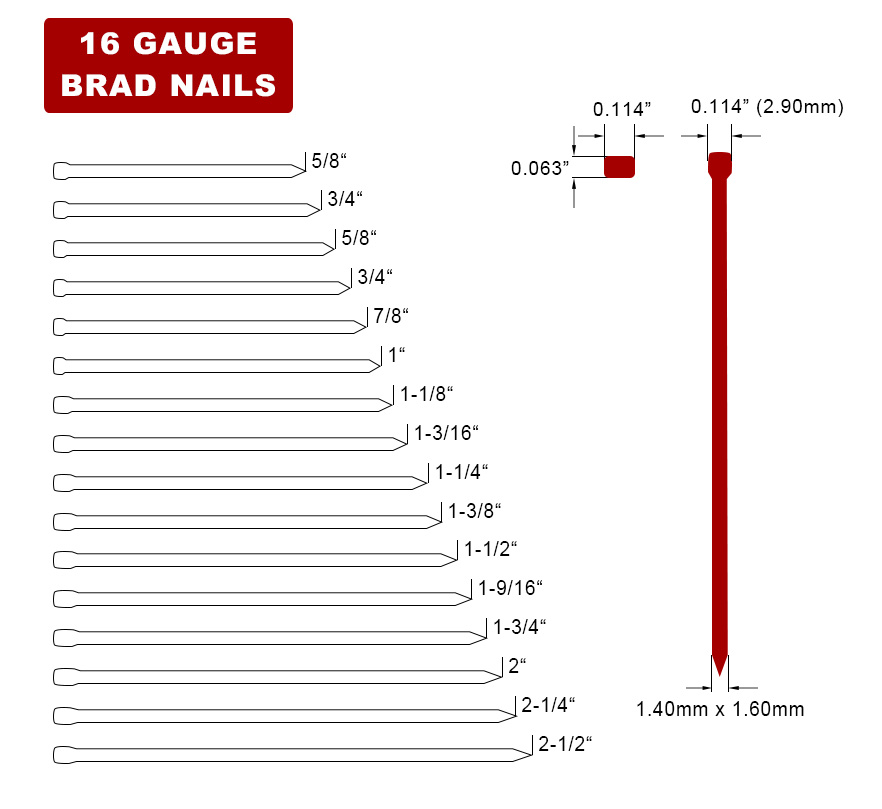 Item
Our Specification.
Length
Pcs/Stick
Package
mm
inch
Pcs/Box
Bxs/Ctn
Ctns/Pallet
Weight Ctn
(G.W.)
Weight Pallet
(G.W.)

T15

T Brads Nails

15mm

5/8"

50Pcs

2500Pcs

20Bxs

50

11.5Kgs

575Kgs

T16

GAUGE: 16GA

16mm

5/8"

50Pcs

2500Pcs

20Bxs

50

12.1Kgs

605Kgs

T19

HEAD WIDTH: 2.90mm

19mm

3/4"

50Pcs

2500Pcs

20Bxs

50

14.9Kgs

745Kgs

T22

WIDTH: 1.60mm

22mm

7/8"

50Pcs

2500Pcs

20Bxs

50

17.24Kgs

862Kgs

T25

THICKNESS: 1.40mm

25mm

1"

50Pcs

2500Pcs

20Bxs

50

19.7Kgs

985Kgs

T28




28mm

1-1/8"

50Pcs

2500Pcs

20Bxs

50

21.5Kgs

1075Kgs

T30




30mm

1-3/16"

50Pcs

2500Pcs

20Bxs

50

22.7Kgs

1135Kgs

T32




32mm

1-1/4"

50Pcs

2500Pcs

20Bxs

50

24.5Kgs

1225Kgs

T35




35mm

1-3/8"

50Pcs

2500Pcs

10Bxs

50

13.6Kgs

680Kgs

T38




38mm

1-1/2"

50Pcs

2500Pcs

10Bxs

50

14.6Kgs

730Kgs

T40




40mm

1-9/16"

50Pcs

2500Pcs

10Bxs

50

15.3Kgs

765Kgs

T45




45mm

1-3/4"

50Pcs

2500Pcs

10Bxs

50

16.8Kgs

840Kgs

T50




50mm

2"

50Pcs

2500Pcs

10Bxs

50

18.9Kgs

945Kgs

T57




57mm

2-1/4"

50pcs

2500Pcs

10Bxs

50

21.3Kgs

1065Kgs

T64




64mm

2-1/2"

50Pcs

2500Pcs

10Bxs

50

23.8Kgs

1190Kgs