Leading Coil Nailer Manufacturer & Supplier in China
KYA TOOLS stock a wide range of COIL NAILERS firing coil nails from 19mm up to 130mm in length. Mainly used in fencing, sheds, timber frame, pallet & case industries. We also stock specialist coil nailers for roofing and flooring applications.

KYA TOOLS offers a full range of Pneumatic Coil Nailer for packaging, siding, crating, sheathing, paneling, pallets, fencing, housing and any other industrial applications.
What is a Roofing Nailer?
What makes a roofing nailer different from any other type of nail gun? The difference is in the detail. Roofing guns are built to drive nails that are appropriate for most types of asphalt and fiberglass shingles, waterproof tar paper and insulation board. Whether you are installing a new roof, or re-roofing, roofing nailers are built specifically for what they are named.
A key feature shared between roofing guns, they are designed to drive coil nails - coil roofing nails to be precise. By using coil nails, roofing nailers can go longer between refills - reducing the need to stop and climb off a rooftop to refill the nailer's magazine. A coil magazine design also helps improve the tool's ergonomics, making it less awkward to maintain hold of while crawling around on a roof.
| | | |
| --- | --- | --- |
| Pneumatic Roofing Coil Nailer CRN45 | | Pneumatic Roofing Coil Nailer CRN45A |


Features:
1. Powerful tool with comfortable rubber grip.

2. Adjustable exhaustor direction.
3. Lightweight die-casting body prevents hand from fatigue during long time operation.
4. Depth adjust wheel with numbered detents helps drive nails to the proper depth into a variety of materials.
5. Robust engine and feed system for durability and long life.


What is a Siding Nailer?
The Coil Sliding Nailer is ideal for your siding and fencing applications. Durably built with aluminum housing to withstand tough jobs, the nailer is also lightweight enough for user comfort. Its tool-free adjustable exhaust adds convenience while you work.The primary difference between a coil framing nailer and a siding nailer is nail size.


Features:
1. Tool-free depth of drive adjustment for precise setting of fasteners
2. Smooth rubber foot aids in preventing damage to work surface
3. Drives wire weld and plastic inserted coil nails
4. Tool-free adjustable rafter hook for convenience
5. This pneumatic siding nailer offers plenty of power.
6. Lightweight and durable die-cast aluminum used in the construction.


Related Products: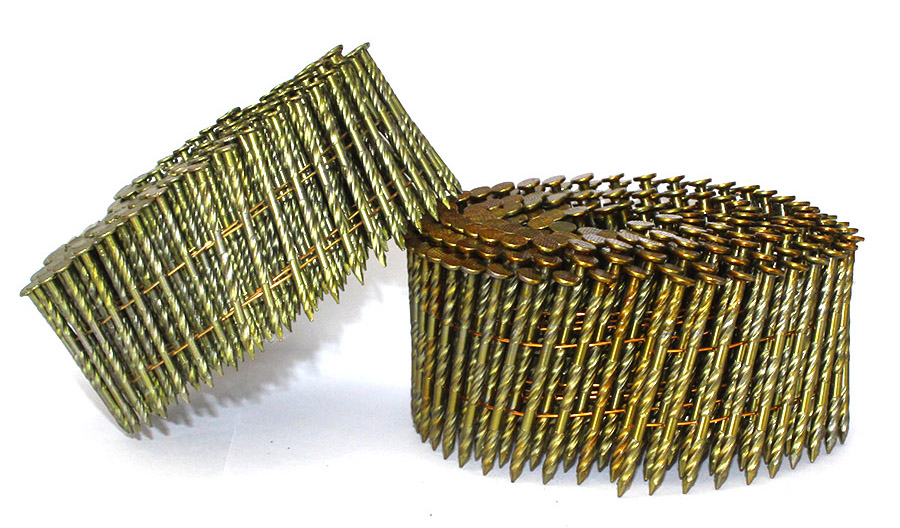 15 Degree Coil Framing Nails
Degree: 15 degree. 16 degree, o degree.
Material: Carbon Steel
Diameter: 2.0mm(0.080")-3.76mm(0.148")
Length: 25mm-150mm.
Shank: Smooth, Ring, Screw.
Finishing: Bright, EG, HDG, DACR, MechGalv, Heat Treated.
Coating: Yellow, Red, Blue.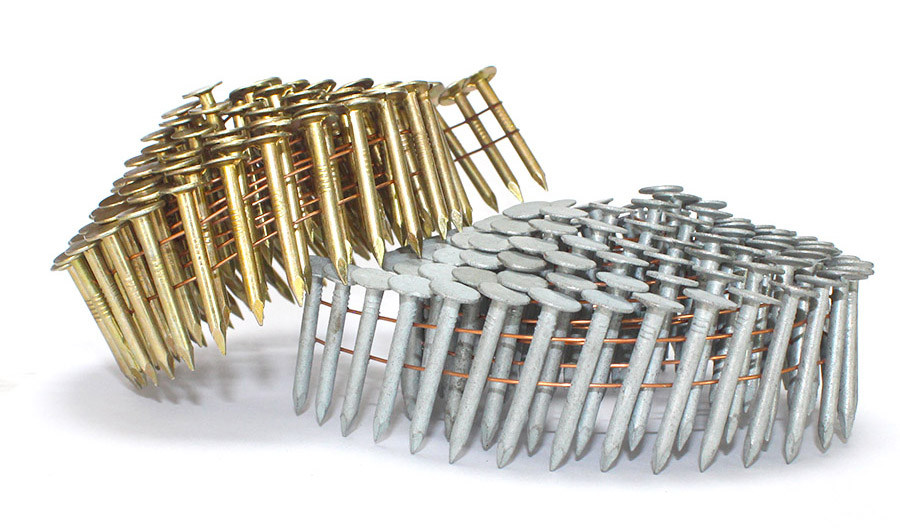 Degree: 15 degree.
Material: Steel
Diameter: 0.120"(3.05mm)
Length: 25mm-150mm.
Shank: Smooth, Ring, Screw.
Finishing: Bright, EG, HDG, DACR, MechGalv, Heat Treated.
Coating: Yellow, Red, Blue.