Common Nails Manufacturer & Supplier
Common Nails for Framing, Carpentry and Construction
Common nails are the most commonly used type of steel nails. These nails have a thicker and larger shank than that of the box nails. In addition, common steel nails are also shown as a wide head, a smooth shank and a diamond-shaped point. Workers like to use common nails for framing, carpentry, wood structural panel shear walls and other general indoor construction projects. These nails range from 1 to 6 inches in length and 2d to 60d in size. For special uses, please take a moment to browse our website, here is a complete model of nails for you.
SPECIFICATION
Material: carbon steel ASTM A 123, copper, brass, aluminum.

Diameter: 8, 9, 10, 12, 13 gauge.

Length: 1", 2", 2-1/2", 3", 3-1/4", 3-1/2", 4", 6".

Size: 1d to 60d.

Shank type: smooth, ring, screw shank.

Head type: round & flat.

Surface treatment: bright, galvanized, polished, vinyl coated.

Standard: ASTM F1667, ASTM A153.

Package: 11 lbs per box, 2 lbs per box or bag, 1 lb per bag, 55 lbs per carton and as your request.
FEATURE
Most popular & versatile fasteners for indoor finishing.

Strong and stiff for medium & heavy projects.

Great holding power and resistant to bending.

Large & flat head can flush with the material's surface.

Smooth shank for easy operation.

Complete gauges, length and sizes are available.
APPLICATION
Wood construction.

Cabinet work.

Furniture finishing.

Bamboo device.

Ordinary plastic.

Wall moulding.

Packaging boxes.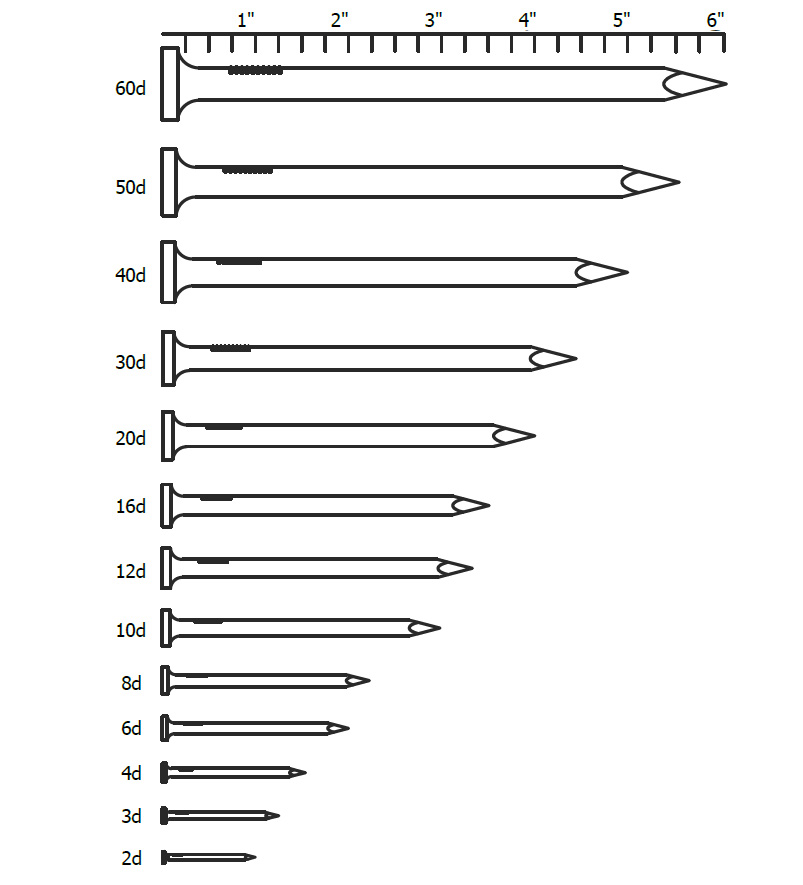 Common Nails Video: